I know I'm a tad bit late with my 2012 Beauty Favourites but I wanted to still put it up so I hope you guys don't mind. Last year has seen alot of amazing beauty releases, some I've absolutely loved and as always some I didn't think were worth the hype. I have quite a few beauty products to show you so sit back and enjoy.
I haven't tried too many foundations over the last year, as I've been sticking to the ones that I feel really work for me. One of the new foundations I tried this year which quickly made it in my favourites is
Urban Decay's Naked Skin foundation
. I've featured this foundation in other favourites posts over the year. I've had it since the middle of the Summer so I'm surprised it has lasted for so long. There's a great shade range for this foundation which pleased me alot. I use the 2.0 which is the second from lightest shade and it suits my skin tone perfectly. I like how this foundation is light on the skin but has quite buildable coverage aswell. I've always been really impressed with Urban Decay's range of products. You'll see another one featured in this post, I bet you can alreay guess what it is. I've seen on their website that they've just released a BB cream. I can't wait to have a look at this when it hits counters over on our shores soon.
Like I said in my November favourites I couldn't possibly pick one favourite out of these brushes. They've definitely replaced any other makeup brush in my collection. I've bought quite a few Real Techniques brushes since they were released in Boots, I hope they add to the range. I find them very affordable in comparison to other brands like MAC, Bobbi Brown etc. They do a even better job in my opinion, I hope they have new additions to the range in 2013 as I know I'll definitely be buying them for sure.
Since I started using Rimmel's Stay Matte powder in early Summer, I've gone through almost four. I don't see a point in forking out on expensive face powders when there's a product like this in Boots. It comes in a number of shades, I stick to transparent as I always end up picking ones that are way too dark for me. The packaging may not be like you'd get when buying from a luxury brand but it works and that's all that should really matter. This is always in my makeup bag just in case my skin goes a little on the shiny side and I need to touch up. I do believe it's around the €7 mark so it definitely won't break the bank. I seen the gorgeous new lip products that Rimmel are bringing out showing up on plenty of blogs so I can't wait to try them when there released. Going from the products that I've already tried from the brand they haven't disappointed.
This gorgeous palette wasn't brought out in Ireland so I was really lucky when Chie sent it over to me for the States during the year. I had seen so many posts about the ever popular
Danmari palette
so I was really excited that they brought out this shortly after. The
All About Cheek palette
contains a bronzer (Laguna), a highlighter (Albatross) and four blushes (Angelika, Luster, Orgasm, Gaiety). I've been using this palette a hell of alot this year, the shade selection is brilliant so I really can't fault it at all. It's also very compact so great for travelling, which I'm hoping to do more of in 2013!
I wish the brand Sleek was more readily available over here. I know we can get it online but nothing beats going into a shop and swatching products to your hearts content. To do this I must wait til I head over to Manchester with the boy, who is super patience and doesn't mind me browsing different makeup counters/stands for hours. One of my favourite buys from the brand during 2012 was their
Face Contour Kit in Light.
I heard so much talk about this product before I bought it so I was really looking forward to picking one up for myself. This is great for bringing out my cheekbones and giving shape to my face. Sometimes I find that the bronzers in these sets can be too dark but that wasn't that case with this at all and I was really happy with it. The highlighter included in the kit is brilliant and I've been using it alot aswell. There's also a decent size mirror in this which would work really well for touch ups and the likes. For the price you can't go wrong with this and I can see myself picking up another the next time I'm away.
I featured this brow kit by Fashionista* in my December Favourites and I have nothing but good things to write home about it. Before 2012 I would of never worried too much about my brows and I always left them as they were. After I started using brow pencils I realised that your eyebrows really do frame your face. I use to get mine waxed quite alot but now I've found myself leaving them to do there on thing as I've found they haven't been growing as much. I finally settled on using brow powders as opposed to pencils as I feel there easier to use and the latter also seemed to break on my anyway. The Fashionista Brow Kit contains 3 different brow shades and a gel. I don't use the tweezer or brush included, I've been using the
Blank Canvas Pro Deluxe E30
alongside this kit and it works great. I know that this brand is hard to come by in Ireland but if your in the UK you should be able to come by it no problem.
Another Rimmel product that I've been flying through in 2012 is their
Wake Me Up Concealer
. Before get started on this product, I'm just going to put it out there that I didn't like the Wake Me Up foundation. I think I may of liked it a little to start but my relationship with this product dwindled quickly. I found it to be way too dark for me and just didn't sit right on my skin at all which was disappointing for a product that at the start I loved. On the other hand the concealer is brilliant. I use the shade Ivory and it works fine for me. I'm on my third tube of this so far and I'm nearly all out so next time there's a 3 for 2 promotion in Boots I'm going to have to pick up some more. Brightening up my eye are plus giving amazing coverage this concealer is the bomb for me. If you didn't get on too well with the foundation like I did I recommend giving this a try either. It's not too pricey so if you don't like it I'm sure someone else will.
My favourite mascara from this year has to be the
Giorgio Armani Eyes to Kill*
. Its a given that this is a expensive product but definitely one that I will be repurchasing in the New Year. This is exactly what I want in a mascara, it doesn't clump and it gives that extra bit of much needed volume to boot. I've had mine for a while now so I'm happy to say that it hasn't dried up like I found the
YSL Faux Cils
did. The packaging itself is also very luxurious, it's almost metal like and kinda heavy.
I've definitely seen myself using alot more eyeliner throughout 2012 and one I've been using for the most is
Soap & Glory's SuperCat Liquid Eyeliner
. I wasn't expecting too much from their makeup range, I can now put my hands up and say I was proven wrong. This is one great eyeliner, it literally doesn't budge all day and I've been using mine pretty much ever since I've bought it.
The Naked 2 palette got released in early in 2012 and I've been using it alot this year. All the neutral shades are right down my street. This palette contains 12 shadows that would be perfect for looks from day to night. I use mine for both, my favourite shades in the palette are Bootycall and Verve, I've almost hit pan on them. After I bought this back in January of last year I've been totally neglecting my original Naked palette, it does make an appearance now and again but not too regularly. A new spin off on the Naked palettes, The Naked Basics Palette has just been released over the past month or so and I love it so far. I included it in my December favourites post but seeing as I haven't had it for too long I didn't want to add it in. If you haven't seen yourself yet, it's definitely one to look out for indeed.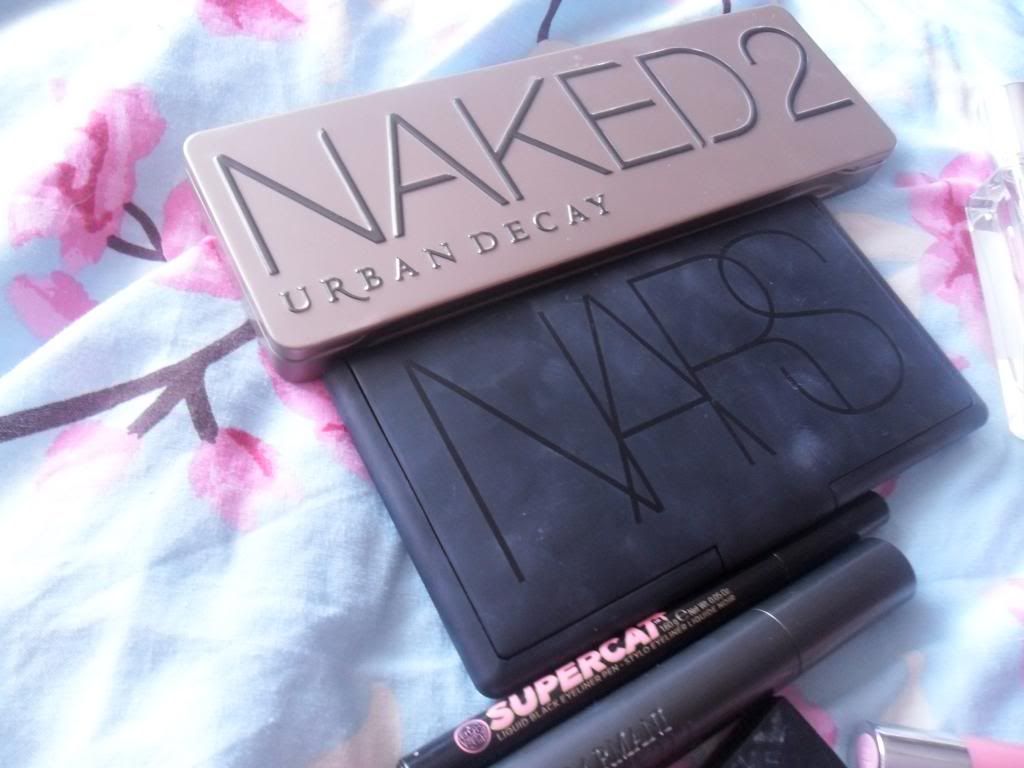 Seeing as I'm not eating anything sweet at the moment, Lush's Popcorn Lip Scrub has been a lovely treat for my lips over the Winter months. Like alot of people I get horribly dry lips, unattractive I know and this stuff is a lifesaver. I love lip scrubs from Lush and I've tried quite a few of them already but Popcorn by far is my favourite. It smells and tastes amazing! These lip scrubs come in at around the €8 mark and there shelf life is a year so I feel they are definitely worth the money in my books. I know it's pretty easy to make homemade lip scrubs, I've seen plenty of "how to" posts but I don't think I'd have the time or patience to do it. Being honest I'm also not graced with being highly skilled at making things so it would probably be an epic fail!
My favourite lip product discovery of 2012 was the
Revlon Just Bitten Kissable Lip Balm in Honey.
I went a bit mad when these first launched so I have quite a few shades floating around my room but Honey has to be my most used one. I find that this particular shade is perfect for everyday and gives an extra something to my daily makeup look. These are really moisturing aswell which I love. When I run out of Honey I'll definitely be repurchasing it, I don't think that will be for a long time yet though as I still have plenty left. Again there is a great range of shades to choose from if you don't think Honey would be your thing!
My first extravagant Jo Malone purchase came back in July when I was heading over to Manchester. I decided to fork out on one of their fragrances as I had been doing so well with Slimming World. After having my Mam driven mad with smelling numerous perfumes I finally went for the gorgeous
Nectarine Blossom & Honey Cologne
. It smells amazing and I've been using it alot. When I first bought this I told myself that I'd only use it for special occasions but sure that's never the case at all. Since buying this I was given another fragrance from the brand, English Pear & Freesia which I love aswell. I'd definitely recommend trying them both out.
During 2012 I've fallen in love with more Bath & Body Works products. Pink Chiffon is a range of theirs that stands out for me the most. It smells amazing I've been using this alot since Chie sent it over to me. I fell in love with it after she sent me a over a travel sized Pink Chiffon body lotion for my birthday back in Februay. I've been a big fan of this scent ever since. The Triple Moisture Cream feels really nice on my skin and leaves it feeling lovely and soft. The tube is huge so I feel that this will last me for a while yet.
Before I forget I do have two random non makeup related favourites for 2012. They are not pictured but I do love them both alot. First up is Taylor Swifts's new album,
RED
. I have this literally on repeat on my Ipod it's such an amazing set of songs. I've been lucky enough to see Taylor Swift twice in concert in the past three years. If she tours with her new album you'll know where to find me! It's so hard to pick a favourite song from this album as all the songs are great so I had to pick two. My favourite songs for the CD itself are Red and 22, there both such catchy tunes and I love them lots. My other favourite for 2012 is
Slimming World
and what it has helped me achieve last year. You can check out my progress since I started back in April
here
. I promise I'm going to got into this topic more on my "
Thoughts on 2012
" post in the next few days. For now all that I'm going to say is that this program really changed my life. It seemed like the perfect time for me to lose the weight and I couldn't be happier.
I'm sure by the end of 2013 we'll have discovered more beauty products that we've all been loving. I for one can't wait to see what new products grace us with their presence during the year. I already have my eye on a few bits that I've seen make the rounds on some blogs. I definitely feel that 2013 is going to be another big year for new product release for sure.
I'd love to hear what made it into your 2012 beauty favourites!
Laura<3