I'm a bit late starting my Christmas series this year but better late than never I guess. I really enjoyed doing these kind of
posts
last year which I thought you guys enjoyed so I wanted to do the same for this Christmas. My first part in this series is going to show some skincare and body products. I feel alot of brands bring out gorgeous sets this time of the year so it would be a shame if I didn't mention them I think. I know skincare can be a bit of a messy gift to get someone as everyone has different skin types so you may not necessarily know what to get them. I've made two skincare suggestions that I think would make a nice gift this Christmas so I had to give them a mention.
First off is
Lush's Let The Good Times Roll Cleanser
which is a new addition to their Limited Edition festive collection. This was always going to be a winner for me as it smells like cinnamon which I adore! For €7.95, this exfoliating cleanser would make a super stocking filler to go with other small gifts. With such a small tub some of you may think that you don't get much product but seriously a little goes a long way. This cleanser may not look too appeal in the tube, it reminds me of cake mix but it works amazingly well. I know I'll be picking up another one before Christmas comes and goes.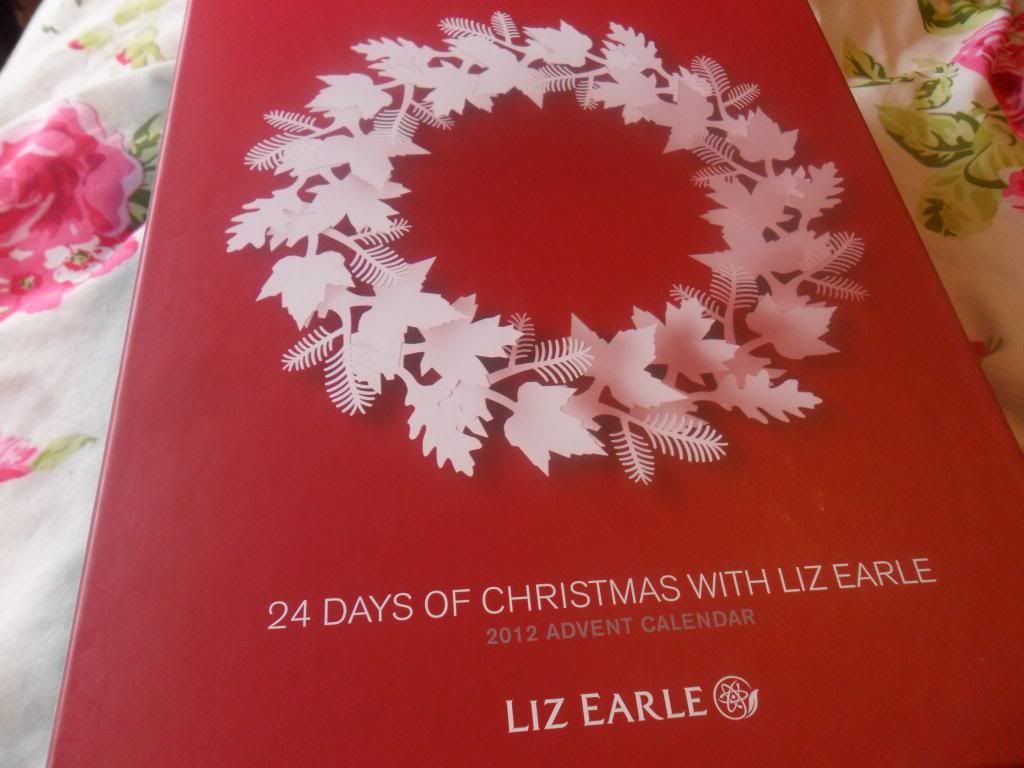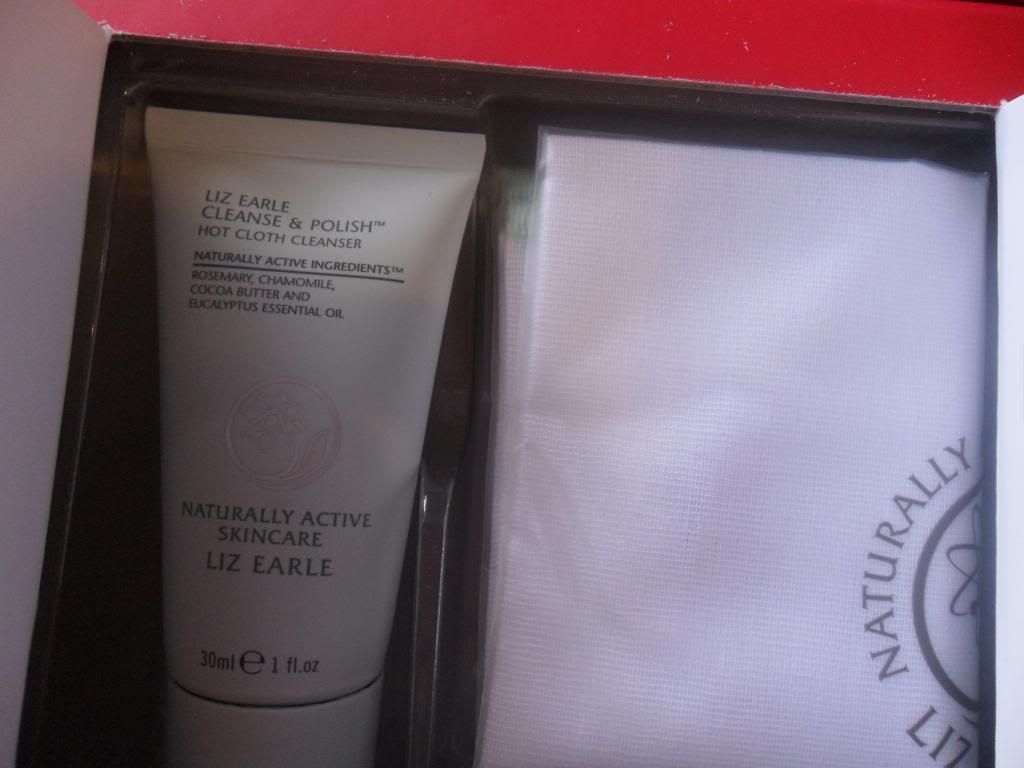 My other skincare selection is from Liz Earle and it's their
24 Days of Liz Earle Advent Calendar
. Alot of the brands products make up my daily skincare routine. I love their Cleanse & Polish and Skin Repair Light Moisturiser, I always make sure that I'm stocked up on both these products. Their new beauty range has been much talked about this year and the range definitely contains some must try products like their
Signature Foundation
and
Natural Glow Bronzer
. This gorgeous gift set is on the pricier side of things at €120.50/£100 but saying that I think this would make a truly lovely gift. First of the advent calendar itself is enormous, I love how it opens up like a big book. On the run up to Christmas under each door is a gorgeous mini treat. This would be perfect for someone who is maybe new to Liz Earle or hasn't tried too many products. With this set they'll definitely get a feel for the brand, how could you not with twenty four miniatures. These little treats would also be great for post Christmas holidays as they are the perfect size for travelling. There's a great selection in this advent calendar from haircare to bodycare to skincare etc. Liz Earle always run brilliant
offers
in the weeks coming up to Christmas, there always worth having a look at too. I've opened up door #1 just to show you how big the products are, I decided not to open up all the doors as I didn't want to ruin the surprise just in case one of you get this for Christmas.
Next is a favourite among alot of bloggers, The Body Shop. They've gone all out their seasonal range this year, I was lucky to go along to their Christmas launch back in October where I got a sneak peak of their festive collection. There are three seasonal scents to choose from
Cranberry
Joy
,
Ginger Sparkle
and
Vanilla Bliss
. My favourite scent out of the bunch is the latter, it's not artifical smelling in the slightest and has a gorgeous sweet scent. Vanilla Bliss doesn't only come in a body butter, you can get it in a shower gel, lip balm, body polish etc. Stay clear of the shimmer body lotion though as it leaves you totally sparkly, unless you like the Edward Cullen then you go right ahead and pick it up! If you're looking for something for a friend or a kris kindle gift look no further than this gorgeous gift set, shaped as lollipop how can you go wrong. It contains five of their popular body butters that are sure to be a hit with just about anyone. The packaging definitely did it for me with this one and for €25.50 you can't really go wrong. To celebrate Black Friday tomorrow, The Body Shop is offering 30% off all their products in store for tomorrow only. It's the perfect time to get some Christmas presents sorted and to also treat yourself. My Nanna loves the Ginger Sparkle hand cream in particular so I may pick her up some more bits in the same scent for Christmas.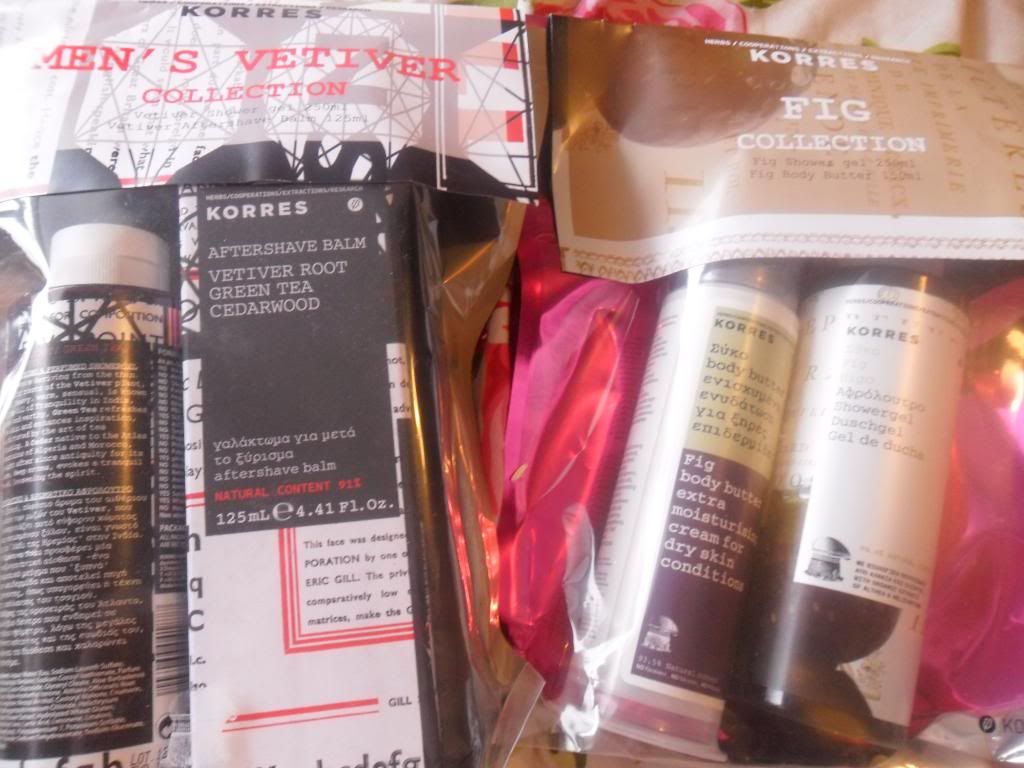 Another brand I have alot of time for is Korres, I am a huge fan of their amazing lip butters. Every Christmas they bring out really nice gift sets which contain lovely products and this year is no different. I have two to show you, one for the guys and one for the girls. For the latter, there's the
Fig Collection gift set
which contains a full sized shower gel and body butter. At first I wasn't too gone of the scent but I actually rather like it now. I find both products to be super moisturising so they'd be perfect for people with dry skin. The body butter sinks into the skin quickly so there's so messing around. Korres products contain alot of natural ingredients which it always states on their packaging. They don't contain any nasties like silicones, parabens etc. I love the body butter packaging as it reminds me of toothpaste so it's definitely more hygienic than sticking your hand in a tub. This personally doesn't bother me but I know it's a issue for some people. Now one for the man in your life the
Korres Men's Vetiver Collection
contain a full sized Aftershave Balm and Shower Gel in the same scent. This time last year my brother reviewed the
Vetiver Root Green Tea Cedarwood Eau de Toilette
here on my blog and he loved it. Being the exact same scent as the two products in this gift set, of course it was inevitable that he'd like this too. He described this as a great one for everyday and for the men who like musky scents.
For great gift sets for any ages look no further than Lush. A brand that I always come back to, I love getting their products as Christmas gifts myself. All their festive sets cater for different price points, so there'll be certainly something to suit your budget. All the products are packaged in lovely Christmas wrapping paper so they make the perfect gift. Alot of their sets use to contain a mixture of bath and shower products. A shame for people like me who don't have the latter in their house. This year is different though and I've found that alot more sets contain just shower products. Two sets that caught my eye are
Winter Wishes
and Snow Fairy, isn't the packaging beautiful? I'm going to do a full review post on both of these to show you what's inside.
I hope you enjoyed the first post in my Christmas series, I would love to know what you think. I'm going to put my next post up next week so keep an eye out. It won't be as long I just had alot to show you guys in this one.
Would you guys like to seen any of these products under your Christmas tree??
Laura
<3